Real Life Transformations
Facebook Posts
---
Veneers
Hornsby Dentist's Website Special: Save 30% off Dental Veneers! Special prices: Composite Veneers at $399 each and Porcelain Veneers from only $849 each (for a package of 6+). We are pleased to offer 1 visit Dental Veneer procedures, saving you time and offering you the best convenience.
Offer subjects to change without notice.
Dental Veneers from $399/tooth:
At Hornsby Dental, we offer a range of materials dental veneers to suit everybody with different needs and preferences. It is important that you read the information provided by us, as well as having a proper consultation with any dentist. In fact, we encourage that you seek out second opinions regarding dental treatments of any sort, because we believe that it is your right to make an informed decision.
1) Composite Resin Veneers for $399/tooth
Composite Resin is a polymer based material filled by ceramic particles. The advancements in the past 20 years has seen significant improvement to the materials strength and aesthetic.
It is the most flexible dental material, both in its usage and characteristics.
Composite Resin can be carefully adapted to tooth structures with minimal or no cutting to tooth structures, and can often blend into the tooth structure seamlessly. This makes it an ideal material for minimally invasive dental veneer material. It also allows the dentist and patients to immediately change the smile with simple addition and reduction to best suit the patient's preferences.
Unfortunately, due to limitations of current generation of materials, dentists are still hesitant to apply this as a long-term veneering material. The average expected life-span of the veneers range between 5-10 years, with higher possibility of repairs required due to chipping and staining which may compound to long term cost to the restoration*. We often recommend this treatment as a minimally invasive option and for those patients who are new to the veneer dental treatment for its reversibility and conservative nature**.
We also recommend this as a transitional veneer to aid our patients decide on what their desired final aesthetic is and can be upgraded to ceramic veneers***.
* Repairs incur a standard restoration cost.
** Tooth preparation varies significantly between individuals. Your dentist will be able to advise this on examination.
*** If the veneers were performed by us, the upgrade to ceramic veneers is $549/tooth.
2) Smile Make-over with 6 or more teeth from $5094 for Porcelain Ceramic Veneers – being $849 each.Smile is a reflection of your joy and happiness. It is often complimented as the best make-up or accessory one can have. Should a smile be affordable? Yes. Absolutely.Which is why we feel strongly that a beautiful smile transformation should be affordable.
When you need more than 6 veneers from us, we offer a significant discount to you because it does not take us twice as long to do an extra veneer, but it matters to you. For around $849/veneer when you receive 6 or more veneers, ceramic veneers do not come more affordable than that. Yes you can certainly have this done overseas, but when it comes to explaining your preferences and ideas, we believe our fluency in English and Chinese still comes as an advantage here.
You will be able to communicate with our dentists better with what you want, and we will reply with our candid opinions of what may suit you best.
Is veneers your solution to your life-long problems? Probably not. But at least, you can start smiling.
Occasionally additional characterisation and processing may be recommended by your dentist to enhance the look of the dental veneer to make it more "life-like". This requires more time to make the dental veneer and as such additional fees may apply. The maximum cost of our Ceramic Veneers is up to $1350 each to provide patients a greater variety of choice and services, but it is entirely up to the choice of the individual patient as to which veneer option they would like.
We offer a 5 year conditioned warranty to Emax and Lava Ultimate restorations:
1) The warranty is limited to failures of materials, including debonding/fallen off and fracture of materials. It does not apply to recurrent dental decays, or loss of tooth due to accidents, gum diseases, and dental abscesses.
2) Patient must have had dental examinations and cleans at least twice a year at our practices. If the patient is an existing patient at our practices, some discretion consideration is applicable should the patient failed to attend for regular examinations and hygiene maintenance.
3) Ceramic Porcelain Veneers from $1190/tooth
Dental ceramics have long been regarded as an ideal long-term restorative materials. The average life expectancy is between 10-20 years, depending on the actual ceramic materials and techniques.
We offer 2 main types of  ceramic materials for our dental veneers, with differences in costs explained.
– Lava Ultimate Resin Nano Ceramic from $1190/tooth*
3M ESPE's Lava Ultimate (Nano-filled zirconia particles embedded in special prepared polymer matrix) is one of the newest generation of dental ceramics, also known as hybrid ceramics. Strenuous researches had been conducted to combine the advantages of both dental polymer and ceramics together: It can be modified inside the mouth without the need for a ceramic furnace, is kinder to opposing grinding teeth than any other dental ceramics, as well as having extremely high polish retention and resistance to fracture. External stains can be applied to the restorations for more realistic appearance**.
* Produced with our CADCAM machines
** Staining incurs an additional cost of $50/tooth, but is not compulsory to achieve life-like aesthetic.
– Emax Veneers from $1190/tooth
Emax (Lithium Disilicate) has been the "IT" material in the dental industry for the past decade. It has extremely high resistance to fracture and is also regarded as one of the most beautiful dental ceramics in the world. It has been used extremely successfully across the globe by many well-known dentists and ceramists to produce some life-changing smiles. There are also very good clinical track-record to back its use in many difficult situations, including extremely thin veneers, dental crowns and bridges, and even implant restorations where raw strength is required, but aesthetic cannot be compromised.
We offer Emax in different levels of customisations:
a) Standard Glazed Emax from $1190/tooth. The veneer is made and glazed to life-like shine. It has comparable translucency to tooth structure and is often adequate to produce very aesthetic smiles.
b) Stained and Glazed Emax from $1190/tooth. The veneer is made and customised staining is applied to produce more details on the veneers, and a layer of fine porcelain glaze is applied on top.
c) Layered and Glazed Emax from $1190/tooth. The veneer is stacked by layers by ceramist to mimic natural layers of tooth structure, then polished and characterised to customised requirements, and finished with a fine glazed porcelain on top.
*Note: Conditions apply and you must mention this website promotion when booking your appointment with us at Hornsby Dental | Hornsby Dentist. To speak to one of our friendly staff about the offer, call (02) 8090 1100 or e-mail us at info@hornsbydentist.com.au for any questions that you may have and we will respond within 1-2 business hours to all e-mails and Voicemails.
Offer subjects to change without notice.
1) Porcelain Veneers: Emax is one of the most popular, dominant dental ceramics around, indicated for a variety of treatment options, most notably, dental cosmetics. Dentists have successfully utilised this ultra-strong dental ceramic for more than a decade with proven track record.
Our dental ceramist based in Sydney is pleased to present us with a discounted rate due to our work volume and to benefit our patients, we feel it is important to pass on this discount. We also have a CEREC machine which can handle simple cases less than 6 teeth, and is ideal for those who are in a hurry as it can be completed in a single-visit.
We strongly recommend for cases with more than 6 Veneers to be completed in 2 visits minimum as the smile design process is rather complicated and the dentist may recommend a trial period with temporaries prior to placing the final Emax veneers.
Further discounts may be applicable for those requiring more than 10 Porcelain Veneers as we will pass on any cost savings from a higher number of units.
A nightguard may be advised by the dentist to protect the Veneers.
We also have this special at our Sydney CBD practice (8090 1105) or info@sydneycbddentistry.com.au
Hornsby Cosmetic Dentist – CASE 1
BEFORE

Patient has slight uneven smile with some discoloration and unmatched old restorations.

AFTER

Composite resin veneers were placed to restore and improve the symmetry as well as function, without disrupting the patient's existing bite.
Hornsby Cosmetic Dental – CASE 2
BEFORE

Patient has minor gaps in his front teeth and mid-line shifting.

AFTER

The patient was concerned about excessive preparation required to place traditional ceramic veneers, and opted for more conservative option. 4 direct composite resin veneers were placed with almost no reduction to the existing tooth structures.
Hornsby Cosmetic Dentist – CASE 3
BEFORE

Patient is concerned about tilted in teeth, prefers a fuller and more even whiteness to the smile.

AFTER

Ceramic veneers were placed with no reduction to the tooth structure as this is purely an addition to the surfaces of the teeth rather than a material modification.
Hornsby Cosmetic Dental – CASE 4
BEFORE

Patient has multiple gaps between her teeth due to absence of adult teeth, and some discoloration due to natural wear and tear.

AFTER

Direct composite resin veneers were placed to close the gaps and improve the shade colours of the teeth.
Hornsby Cosmetic Dentist – CASE 5
BEFORE

Fluorosis is an aesthetic problem that bothers many patients.

AFTER

It is not difficult to correct, but every patient has to decide whether it is a concern enough for them to go through dental veneer treatment. In this case, the patient has a thin layer of discoloured enamel removed from the superficial surfaces of his teeth, with no anaethetic required. The end result was more aesthetically pleasing, without any risk of dental nerve injury.
Hornsby Cosmetic Dental – CASE 6
BEFORE

Patient has already a beautiful smile, but very minor problems bother her.

AFTER

The 3 front teeth are slightly mis-aligned resulting in gap and cross-over teeth. Composite resin veneers were placed with minimal reduction to her teeth. The gum height remains unaltered, although minor laser gum surgery can be elected to correct that as well.
Hornsby Cosmetic Dentist – CASE 7
BEFORE

Patient is concerned about shortness of "gappy" looking teeth, despite the fact they were already quite straight and aesthetic.

AFTER

Mock-up of composite resin veneers was performed to show the patient what can be achieved, and patient was happy to consent to complete the treatment. While different designs of the edges and length of teeth were available, patient has opted for a straighter and squarer shape as her finish.
North Shore Cosmetic Dentist – CASE 8
BEFORE

Patient patient presents with old anterior veneers that have been breaking down and unaesthetic proportions.

AFTER

Complete replacement of old veneers with aesthetic new veneers more in proportion.
Hornsby Cosmetic Dentist – CASE 9
BEFORE

Patient presents to the surgery wishing to explore her options for aesthetic enhancement of her teeth. She did not want to smile at all for the photograph due to lack of self-esteem from a less aesthetic smile.

AFTER

Careful placement of direct nano-hybrid composite resin veneers has managed to significantly improve the aesthetic of the patient's smile. The shades were carefully chosen to blend with the remaining teeth and shapes that can help close the gaps of the teeth without looking out of proportion.
Hornsby Cosmetic Dentist – CASE 10
BEFORE

Patient is not happy with the look of his smile. An otherwise dentally fit young man, the patient has had a very well placed dental crown some 10 years ago. Unfortunately, the colour of his natural teeth have darkened since the provision of the dental crown.

AFTER

After thorough discussion, the patient consented to ceramic veneers with Emax. The gentleman now enjoys a new and iproved smile, with carefully selected colour shade and anatomy that is not too fake or too white to achieve the best natural look.
Hornsby Cosmetic Dentist – CASE 11
BEFORE

Patient was dissatisfied about his smile, with a number of his teeth being too small. Additionally the old crown is too opaque and dark for the adjacent teeth.

AFTER

This is the effect after the porcelain veneers for both the top and bottom teeth were completed. A number of changes have been made to suit the patient's preference. We believe in communication and we encourage our patients to give us input during cosmetic dental treatments. The patient was extremely happy with the final result.
Hornsby Cosmetic Dentist – CASE 12: Veneers – Dark Front Teeth
BEFORE

Patient has suffered a traumatic fall during childhood which has led to 2 root canal therapy by a dentist in hospital to save the teeth. Unfortunately the teeth have since discoloured due to the medication used during root canal therapy. Patient was shy to smile due to the discoloration. A lip muscle paralysis was also observed.

AFTER

Ceramic Crowns were placed to mask the discoloration and also protect the teeth which already showed fractures. Veneers were placed in the adjacent teeth to improve their shade and alignment.
Hornsby Cosmetic Dentist – CASE 13: Veneers – Brown Discoloured Teeth
BEFORE

Patient has recently had her braces removed by another dentist. The young lady was happy with the decent alignment achieved from braces, however due to difficulty to clean, and possibly inadequate oral hygiene, the front teeth were damaged permanently, with physical cavitation from acid erosion and dental decays. These teeth will not be easily whitened by ordinary whitening procedures and dental veneers were necessary to improve their shade and shape.

AFTER

6 Veneers were placed with minimal enamel reduction. The bite was take into consideration during the placement of the veneers to ensure that the corrected bite from braces will not be disrupted, and a conservative yet whiter shade of material was selected to improve the young lady's smile.
What are Dental Veneers?
For whatever reasons you want to make your teeth look nicer and whiter, veneers may be the long-lasting solution for you. A tooth dental veneer is a thin facing that is bonded to the surface of your teeth, either made with composite resin (cheaper) or high strength porcelain (slightly more expensive, longer lasting shine), these are known as porcelain veneers.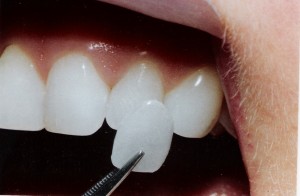 Veneers are fairly conservative also; unlike that of a traditional crown which was often used in cosmetic make-overs in the earlier days of dentistry, a veneer is only applied to the facing surface of your teeth. In suitable cases no drilling is involved, which means minimal discomfort and maximum tooth tissue preservation. Usually this is done in pairs to best match the color of mirroring teeth, and sometimes up to 8 can be placed at once to produce an even level of whiteness and tooth shape.
For any typical veneer treatment, it may take up to two or three treatments. At Hornsby dentist, our qualified dentists will come up with the best treatment plan for you depending on your circumstances and what ever concerns or questions you may have.
For more information about veneers and any other dental treatments, give us a call on 8090 1100 or make an appointment with one of our friendly staff.
Hornsby Dental's October 2016 website special: Save 40% off Dental Veneers!* We are pleased to offer 1 visit dental veneer procedures, saving you time and offering you the best convenience.
*Note: Conditions apply and you must mention this website promotion when booking your appointment with us at Hornsby Dental | Hornsby Dentist. To speak to one of our friendly staff about the offer, call (02) 8090 1100 or e-mail us at info@hornsbydentist.com.au for any questions that you may have. Offer ends on 30th October 2016.