Invisalign vs Braces
What are Braces?
Braces are most commonly made of metal and are attached to the outside surface of your teeth. There are many options for braces, including ceramic and braces that go behind your teeth (lingual). Metal wires and elastic bands are attached to move your teeth into their desired position.
What is Invisalign?
Invisalign is a brand of clear aligners, using clear custom-made plastic aligners to straighten teeth. The aligners grip onto tooth-coloured attachments on the teeth, moving the teeth into position.
Advantages of Dental Braces
Traditional metal braces are used to treat complex dental cases
Suitable for all cases
Braces are fixed in place and are require less patient compliance
Disadvantages of Dental Braces
For some, the appearance of dental braces can be a concern.
Brackets and wiring can be uncomfortable
Dental braces can cause increased food trapping, make eating certain foods difficult and require more care when cleaning
Advantages of Invisalign
Allow many patients to correct their smile, without having to wear conventional braces.

The biggest advantage is that Invisalign Sydney retainers are almost invisible, a great option for many who are concerned with the aesthetics of dental braces, self conscious patients and for those not wanting others to know about their orthodontic treatment

Your dentist will be able to show you a simulation of what your teeth will look like when treatment is completed

Requires less adjustment to your normal daily routine, minimal impact on eating, drinking and oral hygiene care
Disadvantages of Invisalign
Complex cases may not be suitable for Invisalign treatment

Requires 22 hours of wear every day. Patients must adhere to wearing aligners daily

Taking your aligners in and out throughout the day prior to eating and drinking may be an inconvenience.

Patients are required to keep their aligners clean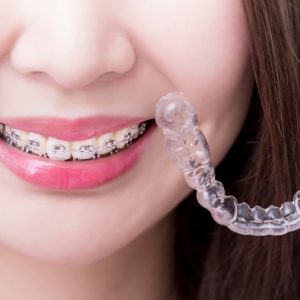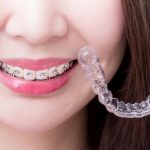 Which options should you choose?
Invisalign vs Braces – they are both great options for those wanting to correct their smile. Consulting with your Dental professional will confirm the complexity of the treatment required and your preference will help your dental professional work out what options are suitable for you.
Cost
It is difficult to accurately quote the cost of Orthodontic treatment, the prices can vary on the complexity of treatment and duration. Usually braces cost Sydney range from $8000-$15000 whilst Invisalign costs here at Hornsby Dentist is from $4,300 – $7,790.