Introducing Hornsby Dental's Latest Advanced Technology:
Digital 3-D X-Ray System: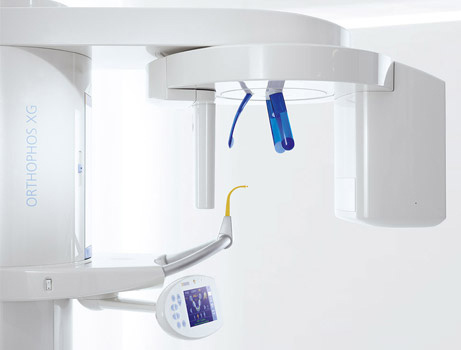 This high-tech 3D Panoramic X-ray has a precise resolution of 160 µm. This 3D digital X-ray system that we use at Hornsby Dental captures the patent's entire jaw in a single span. The additional benefit is that the field of view is sufficiently large to avoid stitching several 3D X-ray images together. Our patients therefore benefit from not requiring multiple exposure to radiation.
Digital radiography (x-rays) is the latest way to take and examine x-rays. The benefit with digital, is that less radiation is needed to produce high-quality images. These images can then be examined on our high resolution flat-screen monitors for enhanced resolution. Using this technology allows for easier detection of dental health problems. With such a large image as compared to traditional X-rays, it is also easier for our patients to see and understand what is happening with their teeth and dental health.
Intraoral Cameras:
At Hornsby Dental, we know that a picture is worth a thousand words, even more so in Dentistry!
We use advanced cameras with the latest optical technology to take highly magnified digital photos of your teeth.
These images are then displayed on our high resolution computer flat-screen monitors for both the patient and dentist to view. We recognise that this is an invaluable tool to diagnose, explain and record dental problems to our patients.
You will also get to see what the dentist sees when our dentists are examining your teeth, which provides you with a unique point of view not normally seen, and a better understanding of your dental health.
Soft Tissue Laser:
Soft Tissue Lasers are a great tool in the treatment of multiple gum related conditions, including gum disease. The laser precision eliminates bleeding at the spot location and also has the added benefit of reducing healing time. They are minimally invasive and patients experience less post operative discomfort.
Invisalign is a clear braces system which enables you to straighten your teeth without braces. By using a series of clear removable aligners, Invisalign straightens your teeth right before your eyes. The aligners are changed about every 2 weeks, which moves your teeth gradually toward the smile you have always wanted.
Invisalign is comfortable to wear and it does not require you to change your lifestyle. It is a low maintenance system where you visit your dentist every 1-2 months to check your progression and get the next set of new aligners. Because aligners are removable, you can continue to eat your favorite foods while brushing and flossing normally to keep your teeth and gums healthy.
Latest Advanced Technology