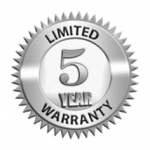 Hornsby Dental's Dental Crown Package: Price starts from $1,650 each.*
We are pleased to offer 1 visit Dental Crown procedures, saving you time and offering you the best convenience. This only applies to CAD/CAM ceramic crowns.
For the above package, we offer single-visit Ceramic Dental Crowns from only $1,650 each*, with a 5 year limited warranty** Using latest CAD/CAM technology to make the Dental Crown to be fitted in a SINGLE VISIT. These are high quality as they are designed and made in-house by our Dentists. No need to wear temporary crowns, and make two visits as with normal procedures.
The dental crowns we offer in our practices include:
An initial consultation may be required.
*Note: Conditions apply. To speak to one of our friendly staff for more information, call (02) 8090 1100 or e-mail us at info@hornsbydentist.com.au for any questions that you may have. If you reach our voicemail, please leave a message and we will respond within the next 1-2 business hours.
**5 Year Limited Warranty key conditions: 1. Patient has to retain their receipt, 2. have twice a year routine 6 monthly dental check-up and cleans at any of our practice location during the warranty period. The warranty will cover for a free replacement of the same Dental Crown restoration if it failed due mechanical failures only, such as fractures or de-bonds. The warranty however, does not extend to trauma/accident related failures, dental decays, gum diseases, or a need for root canal therapy otherwise recommended by the treating dentist prior to the commencement of treatment.
*** Dental ceramics can be seen through on dental x-ray, with the exception being zirconia, which is in fact a metal crystal.
* Prices subject to change without notice.
Implant Crowns not included in this promotion and indicative pricing is $1,750 depending on material and component costs.
Typically, you will find that the average cost of Dental Crowns in Sydney ranges from between $1,800 to $2,500+.
Most dental practices require 2 visits, and for cheap crown options, some also use offshore dental labs in China to make the Dental Crowns to reduce the cost (likely at the expense of quality).
At Hornsby Dental, we make our Dental Crowns in-house to ensure the best quality and to offer Dental Crowns in only 1 visit. This has the benefit of saving you both time and money. You will also find it an interesting process, as your Hornsby Dental Dentist shows you the process of designing your dental crown which is done by our dentists. You can then watch the dental crown being made in our high tech precision milling unit at our in-house dental lab.
Please take a quick look at the rest of this page below to find out more about Dental Crowns and how we make the crowns in-house. If you have any questions, please feel free to speak with one of the friendly Hornsby Dental team on 8090 1100 or email us at info@hornsbydentist.com.au for any questions and we will respond to you within 1-2 business hours.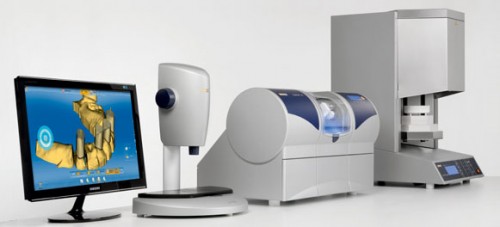 For more information, we recommend watching this quick informative video about the one visit Dental Crown procedure we specialise in and benefits:
No impressions required;
One visit, saving you time, money, and offering greater convenience. We understand you have a busy schedule. Our Dentists create and place the Dental Crown in a single appointment;
No temporary Dental Crowns required, saving you money and avoiding the risk of breaking temporary Crowns;
Long lasting;
Great aesthetic/looking result;
One-visit Dental Crown procedure is one of our specialisations. Our dentists have completed procedures for many patients, both from all around Sydney and including interstate such as from Melbourne, Brisbane and even Perth.
Welcome to Hornsby Dental. One of the procedures that we have particular expertise in is for Dental Crowns. Unlike most other Dental Practices, we make our Dental Crowns in-house, enabling us to have full quality control. We invest in the latest dental equipment and technology. When you visit us for your treatment, you can also ask your Dentist at Hornsby Dental to show you our equipment which makes the Crown in front of you. It's very interesting to see the whole process.
Over years of usage, our teeth, much like any other parts of our body, eventually wear out a bit. If we look closely, we can often find fine fracture lines running down our teeth, along with attrition and facets in the biting surfaces of our teeth. Sometimes, when we bite down just a little too hard, a portion of our tooth can shear off due to the propagation of these cracks. This is usually avoided by placing a crown in the tooth when suggested by your dentist.
A tooth crown is a dental restoration that completely encapsulates a tooth, protecting it with highly resilient material from fractures, as well as other damaging agents we place in our mouth, such as extreme temperatures (hot and cold), hard and tough food, or acidic fruits and drinks. Often a crown is only suggested to you when your dentist has examined your mouth and is convinced that certain teeth are prone to fractures or breakage. It is not something that we as conservative dentists believe should be done routinely on perfectly healthy teeth unless otherwise requested/indicated. When we make a recommendation that a tooth should receive a dental crown, we make these recommendations in your best interest.
Dental crowns are not inexpensive, but we believe that tooth crown price should not stop you from protecting your teeth, which is why we keep our dental crown procedures at a reasonable rate as recommended by the Australian Dental Association median dental fees. If we look at the cost of having 3 or 4 fillings replaced on the same tooth over 10-20 years, being drilled again and filled again, it may not be a bad idea to have a crown fitted and have it providing necessary protection to the tooth for the 10-20 years.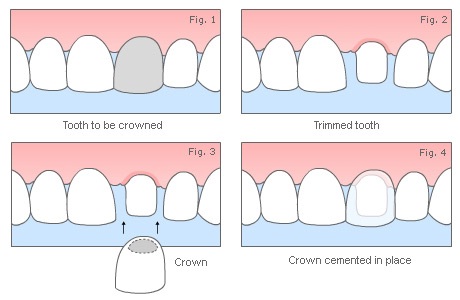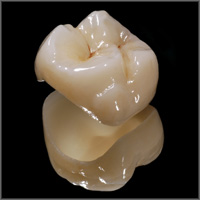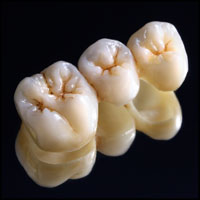 The advanced technology we have at Hornsby Dental allows us to make Dental Crowns in only one visit. Below are the 3 key steps:

CEREC with blue-cam, from Sirona, is a state-of-the-art, high definition acquisition that allows dentist to provide single-visit ceramic crowns and ceramic restorations. It utilises CAD-CAM (computer-aided-design, computer-aided-manufacturing) technology to scan a tooth, design its restoration, and mill it with a high-precision milling machine. The technology is now widely used in dental labs to produce precision-fit, aesthetic dental restorations. We have acquired one such machine to make the dental restoration right in-front-of-you!

Cerec AC is the newest generation of CAD-CAM dentistry chair-side acquisition unit from Sirona. It offers high precision scan with accuracy in the microns!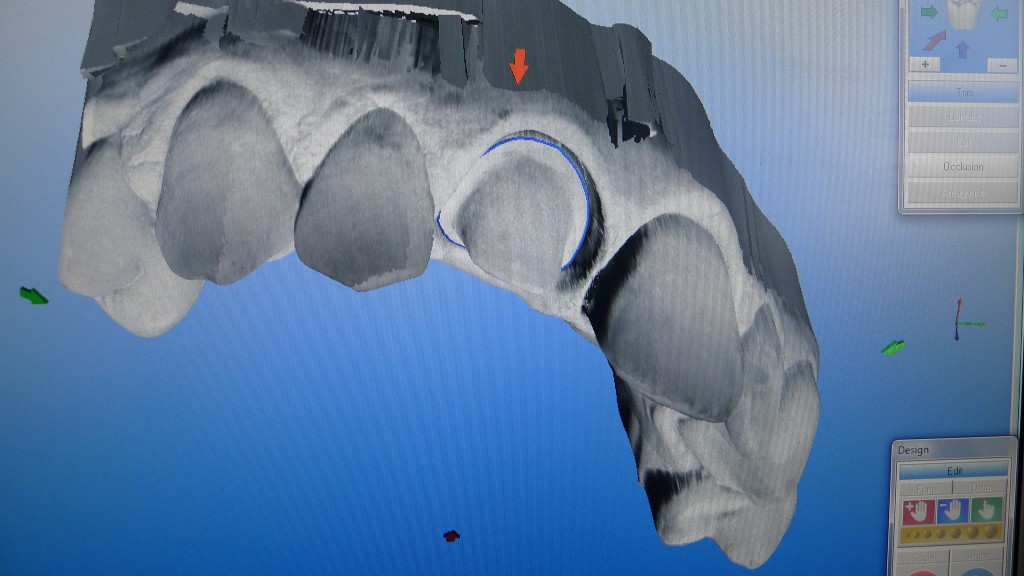 If you are having a crown done, why wouldn't you want something that you can have a say in? Our crowns are designed by both you and your dentist, and milled from high-strength dental ceramics traditionally only made available to dental technicians.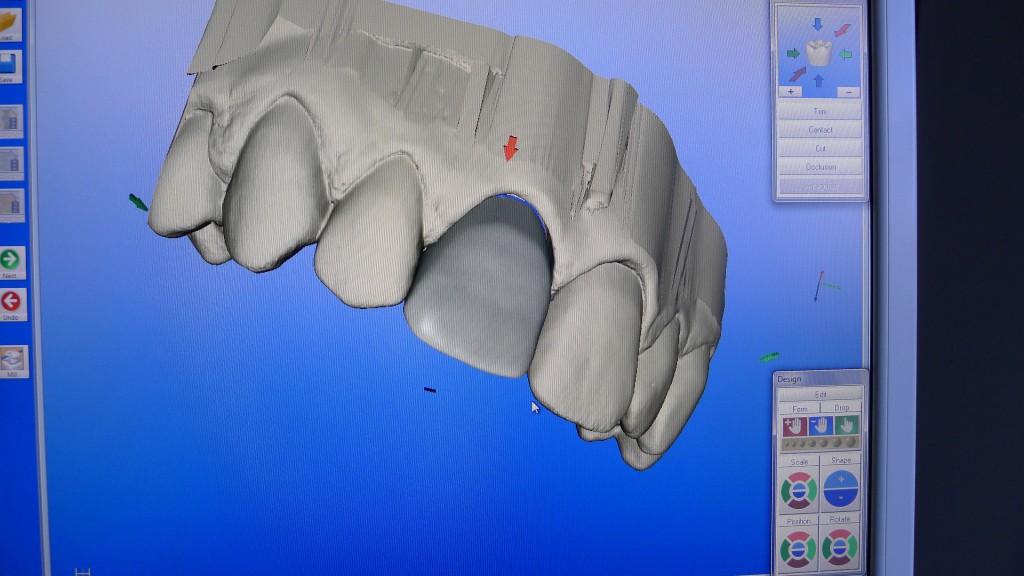 Single-visit crown and ceramic restoration means that you will not have to live with temporary crowns that pop off, or 2 shots of needle. It is literally 'done and done' right in front of you. This technology can also be used for cosmetic dental veneers.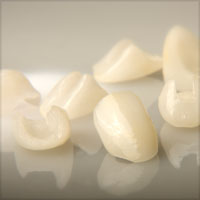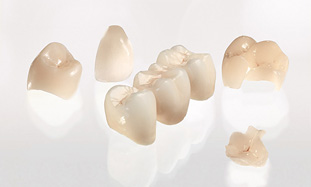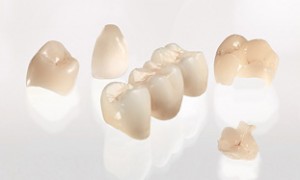 You can also schedule a visit at our other locations: